Career and work are a big part of our lives. Fulfilling career is important for our overall happiness and health. Luckily there are career coaches that can help you navigate your career and maximize your potential to succeed in the workplace.
If you are feeling like you are stuck in your current career or need motivation, using a career coach might just help you get on the right path again. Career coaches can help you land a job faster and they can also help you land a higher paying job so the investment is worth it!
Most career coaches can help you with the following:
Career Exploration
Resume
Mindset / Confidence
Job Search Strategy
LinkedIn Profile
Interview Tips & Preparation
Organization / Productivity
Freelancing / Side Hustle / Entrepreneurship
Here we have listed the top career coaches and their best career advice for job seekers.
Loren Kelly
Career Coaching for Students & Support for Career Educators
Website | Linkedin
Loren Kelly is a seasoned Career Coach for Students and a College Instructor. She is passionate about helping students prepare for a career while they are obtaining their education. If you need help determining a fulfilling career path or marketing yourself to employers through your resume, cover letter, or LinkedIn, be sure to take advantage of a free, 30-minute consultation with Loren!
Advice for job seekers:
My best advice to students currently in a job search is to remember that job descriptions are written with the ideal candidate in mind! I see students reluctant to apply to positions they are excited about simply because they do not meet all of the criteria listed in the position description. Hiring managers write those descriptions with the perfect candidate in mind, so if you meet most of the qualifications, definitely apply! Don't remove yourself from game before it begins!
Read Loren Kelly's guest post: How to List School Projects on Your Resume
Nadia Ibrahim-Taney / Beyond Discovery Coaching
Career Coach & University Professor
Website | Linkedin
Nadia Ibrahim-Taney helps people design happy and fulfilling careers through authentic career coaching. Nadia's expertise includes career exploration guidance, resume writing, interview prep and LinkedIn profile optimization. As a member of the LGBTQ+ community, she focuses on how diverse identities impact and influence folks holistically and professionally. To get started with Beyond Discovery Coaching, book a discovery call.
Advice for job seekers:
When considering your career, I encourage you to get honest with yourself around what work means to you, what role does work serve in your life and your identity and what do you need from work to keep you happy and engaged. Understanding how we define success in work and how we want to show up with our identity at work, guides us in the choices we make in our career, what jobs we take, what jobs we leave etc. So don't be afraid to get real with yourself! Ask yourself deep, meaningful questions and know your answers will likely evolve over time as you evolve in your career. And that's ok! That's being human.
Read Nadia Ibrahim-Taney's guest post: 10 Ways to Authentically Demonstrate Diversity and Inclusion in Your Resume
Jessica Manca / Managing Mindspaces Coaching
Mindset and Career Coach, Author of Finding Passion
Website | Linkedin
Jessica Manca is a professional executive, career and mindset coach, author of Finding Passion, and senior talent management leader specializing in self-discovery coaching to disrupt inner limits to help professionals with the mental work to get out of their own way. She offers accessible coaching programs, online courses and resources for overthinkers, perfectionists and achievers across all experience levels who are making a career change, advancing their careers, and stepping into their next-level. Learn how you can request a complimentary coaching and accountability experience with Jessica at managingmindspaces.com.
Advice for job seekers:
When you're not getting results in your job search, take a step back to know where the problem is. As a career coach, I meet professionals every day who are spending tons of energy applying to jobs they don't want, using a resume they don't like (they even say they wouldn't hire themselves) or aren't sure where to look because they don't know what they want. They get exhausted and stuck within days of using that approach. What if you pause and recognize where you're not getting results? Is it the lack of job opportunities when searching, the resume converting to a first-round interview, or advancing through an interview process to a job offer? Isolate what's not working, and be open to taking small steps to bring your ultimate future forward!
Melissa Carvalho
Coach for Corporate Professionals
Website | Linkedin
Melissa Carvalho is a career, leadership & clarity coach for corporate professionals. When she isn't coaching job seekers land new career opportunities she is engaged as a sought-after speaker.
With a background in recruitment and HR, Melissa's high-spirited leadership style is sought after as a career coach and presenter. Her unique view on the future of work is focused on leveraging networking, team building, and strategy. Melissa is known as the ultimate cheerleader for career and growth-focused individuals along with inspiring others with her content on LinkedIn. Her Clarity and Interview Coaching Services are sought out by all industry leaders, looking to grow and take charge in their careers.
Advice for job seekers:
The best career advice for my target audience is to not give up and go outside your comfort zone, network with others on LinkedIn, embrace each moment you have. Getting hired can be a roller coaster of emotions. Keep spending time adjusting tweaking your resume for each job posting and scheduling informational interviews with industry leaders. We are all leaders in our careers, embrace your leadership.
Courtney Brein / Happy High Achiever
Career Coach
Website
Courtney Brein helps high-achieving, mid-career professionals thrive at work in one of two ways: by finding new, rewarding roles they love or by further developing the leadership skills, mindset, and practices needed to excel in the position they currently have. Prior to founding Happy High Achiever, Courtney promoted up the corporate path at a Fortune 200 company to run domestic and international teams, worked as a Big 3 management consultant, and spent time as a nonprofit change-maker. She holds a MBA from Wharton and a BA from Princeton. Courtney offers free, 30-minute strategy calls for professionals ready to truly thrive at work.
Advice for job seekers:
Your resume should focus on your impact, quantified where possible, rather than reading like a job description, but know that a good resume is necessary but not sufficient. Spend the majority of your job search time speaking with employees at your target companies rather than responding to job postings, in order to be considered for roles before they're officially posted (aka accessing the hidden job market). And her advice for all professionals: while no job is perfect, you deserve to do something you enjoy doing most of the time. If you dislike your job, don't wait until you're burned out to do something about it. It's often possible to improve your experience without leaving your role, but sometimes finding a new job is the best option.
Kelly Nash / Lipstick and Ink
Career Coach
Website | Linkedin
Kelly Nash is a writer, career coach, speaker, and founder of Lipstick & Ink®. Lipstick & Ink® is a Chicago-based organization focused on career content, coaching and consulting services, and events that empower women to be their most authentic selves and best advocates in work and life. Lipstick & Ink®'s mission is to help women own their power and make their mark so they can advance and drive impact in the workplace and beyond.
Kelly has partnered with numerous corporations such as General Assembly, International Association of Women, Peapod Digital Labs, and Salesforce and has been featured in publications including Thrive Global and Chicago Tribune. She holds an advertising degree from the University of Illinois at Urbana-Champaign and has over 12 years of digital marketing experience. Kelly currently works full-time in technology as a Success Manager at Salesforce. She's fueled by black coffee, sunshine, a good ink pen, and a bold lip.
Advice for job seekers:  
Dedicate less time navigating through the posted job market and applying online and much more time on networking and building connections. One of the biggest mistakes I see job searchers make time and time again is them spending all of their time applying and sending their job applications into the interwebs, crossing their fingers that they'll hear back and land an interview. But if you want to get hired at your dream company, you need to make a fundamental shift in the way you look for work. Think people, not job boards. Spend 80% of your time networking and 20% actually applying to jobs.
Becca Carnahan / Next Chapter Careers
Career Coach for Women
Website | LinkedIn
Becca Carnahan is a career coach, author, and mom of two. As the CEO of Next Chapter Careers, Becca specializes in helping Millennial and Gen X women and moms make big career changes to find more joy and fulfillment at work. Laugh and learn along with her book When Mommy Grows Up and figure out if it's time for YOU to find a new job at newjob.beccacarnahan.com.
Advice for career change: 
If you're ready for a change, first know that change is totally possible! I've worked with countless mid-career professionals who have made big changes in industry, function, geography, etc and found more joy and career fulfillment. Second, make sure you get clear on what you truly want and need from this next chapter of your career. When you focus on what you're running away FROM, you'll get somewhere but it may not be where you want to go. Instead, focus on what you're running TOWARDS, so you can clearly identify the right types of opportunities, tell your story, and land (or create) your next role.
Katelyn Richards / Crafted Careers
Career Coach & Strategist
Website | Linkedin
With 10+ years experience in Higher Education, Talent Acquisition & Coaching, Katelyn specializes in helping job seekers escape unhealthy work environments and make meaningful career pivots & transitions to companies where they can thrive. She uses her recruiting insider's knowledge to equip professionals with effective job search strategies that help them stop blindly applying and tap into the hidden job market, intentionally positioning themselves to land opportunities that they wouldn't find otherwise!
Advice for job seekers:
I'm a firm believer that job searching should be a team sport. So many job seekers keep their job search just between them and their laptop, but the best thing you can ever do is tap into your community and invite people along for the ride.
This is as simple as these three things:
Letting your existing friends, family, connections, and community know that you're job searching and the type of role you're looking to land and getting warm introductions to their connections!
Establishing a mentorship relationship where you can seek out support and advice
Seeking out fellow job seekers going through the same thing and cheering each other on in the journey.
We are 100% better together and stronger when connected and letting people in on your job search journey will absolutely expedite the process.
Mary Kruger / MLK Coaching
Career & Life Coach
Linkedin
Mary works with professional women and mothers in particular. She understands the challenges that come along with working full-time and juggling family commitments. Family is very important to her as it is for any mother, so being able to help professional women find that right work-life balance and achieve their career goals is why Mary loves what she does.
Mary has successfully made 3 major career transitions and understands the frustrations, disappointment and isolation experienced when looking for work. With more than 10 years career coaching, job search and consulting experience, she has worked with over 1,200 people. Mary helps people get past the gate keepers to the decision makers, to get in the door.
Mary is both a Certified Positive Intelligence and ICF (International Coaching Federation) Career Coach.
Mary believes it is an honour to coach people. Clients say Mary is positive, intuitive, warm and encouraging, and can keep them accountable to their goals.
Advice for career change: 
When looking to transition into a new career or job your mindset is your most important asset. Having a positive mindset and believing in yourself will help you project your most confident self. Quieting the negative self-talk and those nasty saboteurs that say you aren't good enough is your first step. If you haven't already, keep a "smile file" of all the positive comments or feedback you have received in the past. Reread recommendations and past testimonials as well as job performance reports to boost your confidence. Focus on what you can do, not what you can't. Surround yourself with positive people.
Secondly, reach out to your network, to everyone you come into contact with and let them know the type of work, the industry and possible places you would like to work. Ask if they know someone you could speak with. Do information interviews to learn about a type of job or workplace. I've made three successful career transitions through information interviews. Success is much greater through networking than relying on job boards and advertised positions. Networking greatly reduces the competition!
Finally don't forget to follow up – with your network, after you send an application and after interviews. Following up sets you apart from others and demonstrates you are interested in the job!
Somewhere In Between Coaching
Career & Energy Coach
Website | Linkedin
Neha O'Rourke is an award-winning Career & Energy Coach and Founder of Somewhere In Between Coaching, a company dedicated to empowering career-driven women to discover their purpose and realign with their definition of happiness, intentionality, and fulfillment —and bring it to the forefront in ways that advance her personal and professional endeavors.
Somewhere In Between's range of services — including 1:1 Coaching, Group Workshops, and Public Appearances — has been embraced by brands such as Expedia, WeWork, Athleta, NEMA, The Wing, and more. Her thought leadership has been featured in publications such as The Lily by The Washington Post, The Chic, Yoga Digest, and Lux and Concord, and on WGN News and Fox 32. Neha has been recognized by Honeybook and Rising Tide Society as "20 on the Rise" in the coaching category.
Prior to Somewhere In Between Coaching, Neha worked in advertising where she architected strategies and campaigns for nationally recognized brands. As a result of physical, mental and emotional burnout, Neha shifted her career to launch Somewhere In Between Coaching.  She fundamentally believes that life is too short to be "surviving" your career and that every woman deserves to thrive, both professionally and personally.
Advice for career change: 
Often when we think about switching careers, we get into an analytical mode thinking about the cost or risk involved in making a change. Which, like any good decision making, is a great practice to ensure you are making a well thought out decision.
However, I often see that people don't do the full analysis. Because while you're busy assessing "what if it doesn't work out" and "what's the cost to my salary," you often leave out the other side of the coin which includes questions like:
"What's really the worst that would happen if someone judged me for my change?"
"What is the cost to my soul if I don't make a change?"
"What matters to me at the end of the day and which decision aligns best with that?"
"What if it works out?"
"What if it works out better than I could imagine?"
So since I know you're spending your energy analyzing the situation, please make sure you conduct the holistic analysis.
Oh and p.s. nothing is set in stone. You are in control of your decision and at any moment, you get to choose differently. So ask yourself, "how can I make decisions that take me away from what no longer serves me and bring me closer to the fulfilling and joyful life I deserve?"
Be sure to bookmark this list of career coaches for later. Do you have experience working with career coaches? Comment below!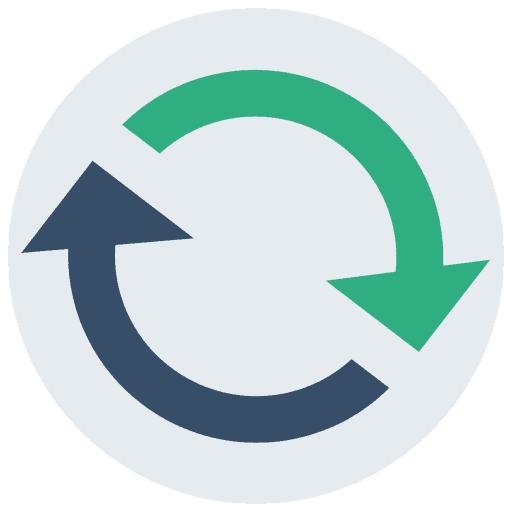 We help job seekers to better their career by offering career tips & free resources. Visit the Free Resources page to download free resume templates, cover letter templates, business card templates, planners and worksheets.